Uber Introduces "Quiet Mode" Premium Feature
Uber is introducing a new feature where riders can select a "Quiet Mode" option when requesting for rides.
The new feature, announced on Wednesday, is only available for Uber Black and Uber Black SUV riders, who the car-hailing platform says want "high-quality service and premium comfort."
The new features include the following:
Quiet Mode: if you need to respond to emails or are in the mood for a nap, make your trip a quieter one with just one tap. If you're in the mood to chat, that's an option too.
Help with Luggage: let your driver know an extra pair of hands is needed for your luggage.
Temperature Control: communicate your optimal temperature before entering a vehicle.
Extended Pickup Period: riders will have a little extra time to get to the car when unexpected delays pop up.
Premium Support: access premium phone support with live agents if you need something to be made right.
Professionalism: ride with confidence knowing that your professional, commercially-licensed driver is at the top of his or her game.
Consistent Vehicle Quality: expect the same kinds of rides, every time, with consistent vehicle model, makes, interiors, and exteriors.
"We know that when riders choose Uber Black and Uber Black SUV, they want a consistent, high quality experience every time they ride. With these new features and more to come, we're excited to ensure that our riders can arrive relaxed and refreshed, wherever they're headed," a press statement said.
Source: BellaNaija
Ursula Honored In Hungary.
Ghana's Communications Minister, Ursula Owusu-Ekuful has been recognized at the International Telecommunication Union (ITU) Telecom World Awards 2019 in Budapest, Hungary for her "exceptional commitment and participation as a valuable partner in ITU Telecom World events."
Presenting the ITU Telecom World Awards 2019 certificate of appreciation to Mrs Owusu-Ekuful, ITU's General Secretary, Houlin Zhao described the Ghanaian Communications Minister as an excellent and exceptional member of the Union.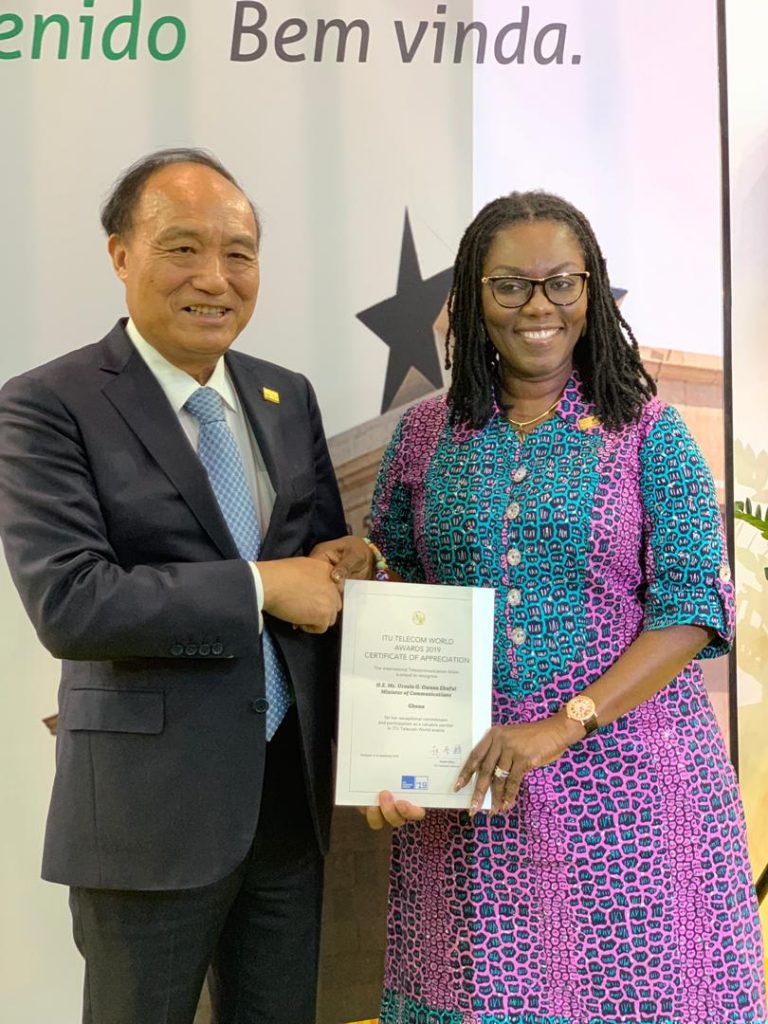 Reacting to the recognition, Mrs Owusu-Ekuful said, it's a great privilege for her modest efforts at the international level, on cooperation in developing and implementing ICT initiatives with colleague Ministers in the last two and half years, to be recognized and rewarded by the ITU."
She stated that, she is deeply humbled and elated, adding that, this award will encourage her to do even more, both locally and internationally to narrow the digital divide for the benefit of her country and people.
Meanwhile, the Accra Digital Centre, a Government of Ghana mini Technology Park, under the Ministry of Communications, set up to harness the digital potential of Ghana by promoting Digital entrepreneurship and innovation was announced as the 2019 winner of the International Telecommunication Union – ITU's Global Ecosystem Best Practice Award whereas Vokacom (Innovators of Ghana Post Digital address) emerged as winner of the Best Busines model at the 2019 ITU Telecom World in Budapest, Hungary.
The award, given by the Telecommunication Development Bureau of the ITU, recognizes and gives awards to hosts of Technology Innovation with best practices that enable innovators to develop ICT- centric solutions that can be globally recognized and scaled.