Samsung Galaxy S10e Review: Why It's Worth Switching From iPhone
The fact that the Galaxy S10e costs $750 is almost a little shocking to me after using it for few weeks.
Yes, of course, $750 is still a lot of money. But compared to where we're setting the bar these days — $1,000! $1,100! $1,980! — we've somehow been conditioned into thinking $750 for a device with a limited shelf-life is affordable.
Regardless, I'm grateful to Samsung for pricing the S10e where it did, and for doing that without sacrificing on quality. Sure, there are a few things it can't do compared to the standard Galaxy S10 — reverse wireless charging, ultra-wide-angle photos, and other less noticable thingss. — but I'd consider those missing features as perks, not necessities.
For $750, you're still getting a premium device that feels more advanced than most other phones, including those that cost more money.
Source: Business Insider.
Ursula Honored In Hungary.
Ghana's Communications Minister, Ursula Owusu-Ekuful has been recognized at the International Telecommunication Union (ITU) Telecom World Awards 2019 in Budapest, Hungary for her "exceptional commitment and participation as a valuable partner in ITU Telecom World events."
Presenting the ITU Telecom World Awards 2019 certificate of appreciation to Mrs Owusu-Ekuful, ITU's General Secretary, Houlin Zhao described the Ghanaian Communications Minister as an excellent and exceptional member of the Union.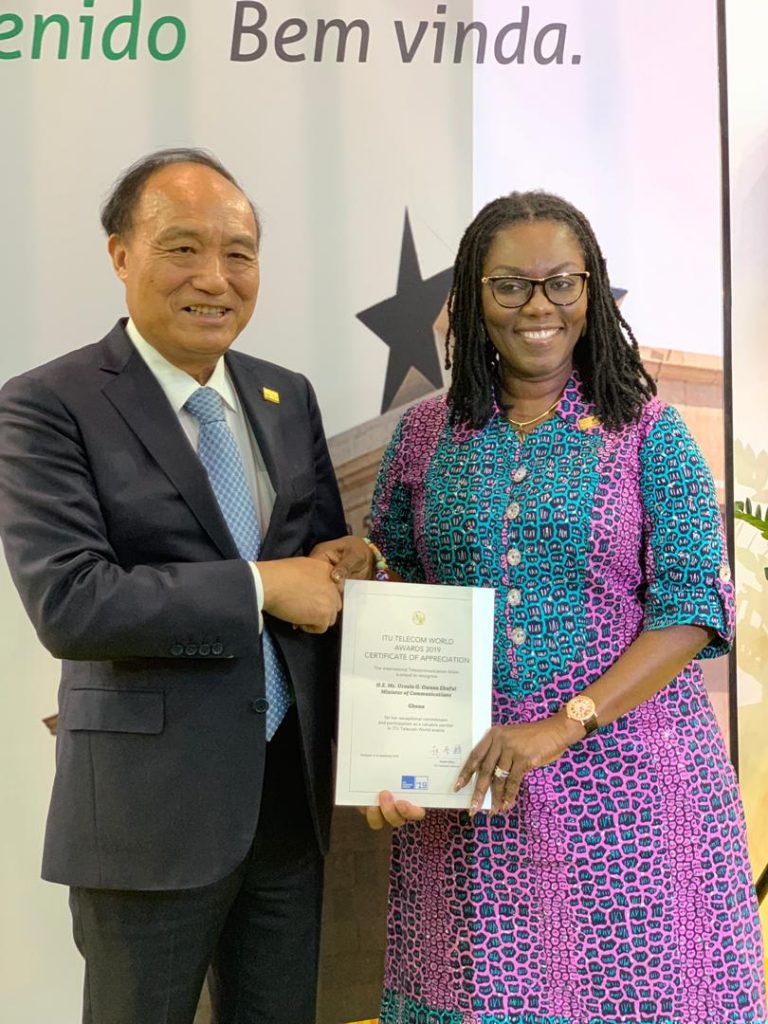 Reacting to the recognition, Mrs Owusu-Ekuful said, it's a great privilege for her modest efforts at the international level, on cooperation in developing and implementing ICT initiatives with colleague Ministers in the last two and half years, to be recognized and rewarded by the ITU."
She stated that, she is deeply humbled and elated, adding that, this award will encourage her to do even more, both locally and internationally to narrow the digital divide for the benefit of her country and people.
Meanwhile, the Accra Digital Centre, a Government of Ghana mini Technology Park, under the Ministry of Communications, set up to harness the digital potential of Ghana by promoting Digital entrepreneurship and innovation was announced as the 2019 winner of the International Telecommunication Union – ITU's Global Ecosystem Best Practice Award whereas Vokacom (Innovators of Ghana Post Digital address) emerged as winner of the Best Busines model at the 2019 ITU Telecom World in Budapest, Hungary.
The award, given by the Telecommunication Development Bureau of the ITU, recognizes and gives awards to hosts of Technology Innovation with best practices that enable innovators to develop ICT- centric solutions that can be globally recognized and scaled.