RUMOURS: Apple AR Glasses Are Set for A 'Revolutionary' 2020 Launch.
Apple's augmented reality headset will enter mass production as soon as the fourth quarter of this year in time for an early 2020 launch, according to a new report out today from Apple analyst Ming-Chi Kuo
and seen by MacRumors.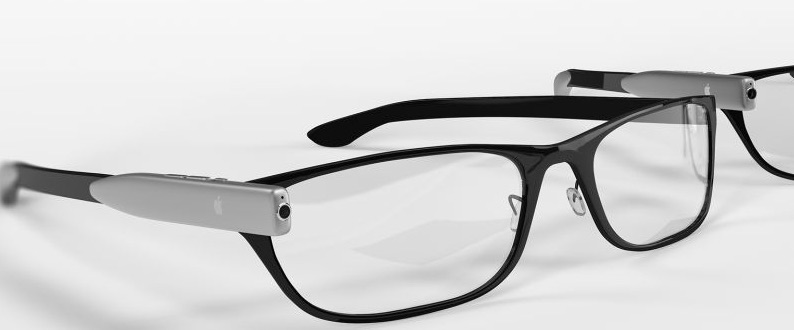 An Apple Glasses mockup
In his latest research note with TF International Securities, the analyst says Apple will cooperate with third-party brands to launch its first head-mounted AR product in 2020, with Changying Precision tipped to be the main chassis supplier.
A Kuo report in March claimed Apple would launch an AR product in 2020 that could be ready by the middle of next year. However, Kuo has brought forward his predicted time of release and the analyst now believes the launch window for the product will fall in the second quarter of 2020.
Back in July, a DigiTimes
report claimed Apple had suspended its AR headset project, but just last month, code found in
Xcode 11
and
iOS 13
confirmed that Apple is still working on an augmented reality headset of some kind.
Within the internal Find My
app bundle that MacRumors
exclusively shared
, there is also an icon depicting what appears to be an AR or VR headset that looks similar to the Google Cardboard.
Kuo understands that Apple's AR glasses will be marketed as an iPhone accessory and primarily take a display role while wirelessly offloading computing, networking, and positioning to the iPhone.
Designing the AR glasses to work as an iPhone accessory is also expected to allow Apple to keep the glasses slim and lightweight, rather than trying to pack in all the processing hardware into the one device.
As early as November 2017, Bloomberg reported that Apple was developing an AR headset. Apple originally aimed to have it ready by 2019, but the company was relaxed about not shipping a product until 2020. The report said the headset would run on a new custom operating system, based on iOS, and dubbed "rOS" for "reality operating system."
In addition, today's report underlines Kuo's previous prediction that the most important change to the Apple chassis industry chain in 2020 will be the upgrade of the 5G iPhone
's metal mid-frame/chassis.
For Apple's 2020 iPhones, Kuo believes the company will adopt a new metal frame structure reminiscent of the iPhone 4, which will significantly increase the unit cost due to the increase in processing procedures and the integration of composite materials.
Today's report from the respected Apple analyst also covered Apple's iPad Pro and MacBook plans for 2020, which we've covered in a separate article.
Ayoba Messaging Platform, Powered By MTN, Reaches 1M Active Users.
JOHANNESBURG – MTN Group today announced that its instant messaging platform, Ayoba has reached 1 million monthly active users. Ayoba is an advanced communications application localised for African and Middle East consumer needs, under an independent Over the Top (OTT) brand with unique features for MTN customers. The app supports many local languages spoken across the MTN markets including isiZulu, isiXhosa, Pidgin, Yoruba, Swahili, Hausa, French and English.
MTN, together with its partners, is driven to improve access to affordable communications to ensure that people in its markets can reap the social, economic and developmental dividends of being online. Ayoba underscores this goal to bring more people into the digital world by providing them with affordable and simplified digital communication services.
Some of its key features and offerings are: Local languages: Ayoba is available in the top local languages in the markets where the offering has launched, Chat now: Users can instantly send and receive text and voice messages with any of their contacts regardless of device type or network, Security: End-to-end encryption means that messages in a conversation cannot be read by anyone else, Chat with everyone: Users can send SMS text messages with anyone in their contact list, regardless of whether they've installed Ayoba or not, Channels: Users can subscribe to Channels for locally relevant content across various categories, Money transfers: Users will be able to make and receive payments via Mobile Money (coming soon).
Commenting on the milestone, MTN Group President and CEO, Rob Shuter said, "We believe that our customers in Africa and the Middle East deserve a communication platform that expresses our unique voice, honours our rich identity through local languages, and addresses our customers' specific needs and challenges by offering a data-included offering for MTN users, Mobile Money transfers (coming soon) and locally relevant content via channels."
The platform which was launched earlier this year is now operational in 8 MTN markets, namely: Cameroon, Cote d'Ivoire, Congo Brazzaville, Nigeria, Ghana, Guinea Bissau, Afghanistan and South Africa. Ayoba is also available across multiple markets on the Google Play Store and via the Ayoba website www.ayoba.me as an OTT offering.
As part of continuous efforts to enhance its offerings, Ayoba will be adding more features in the future. "Ayoba is also working on building an open digital platform that will enable third party innovation. This will ensure that we offer a rich diversified experience on the platform, enabling us to deliver more value to our users, empower local developers and create local experiences that are optimised for local communities," explains David Gilarranz, CEO MTN Digital.
Gilarranz adds that in addition to the number of exciting innovations on the cards Ayoba plans to expand to the rest of MTN's markets, and other territories across the globe. Before the end of the year, Ayoba will go live in Guinea Conakry, Liberia, Benin and Rwanda.
About the MTN Group
Launched in 1994, the MTN Group is a leading emerging market operator with a clear vision to lead the delivery of a bold new digital world to our 244 million customers in 21 countries in Africa and the Middle East. We are inspired by our belief that everyone deserves the benefits of a modern connected life. The MTN Group is listed on the JSE Securities Exchange in South Africa under the share code "MTN". We are pursuing our BRIGHT strategy with a major focus on growth in our data, fintech and digital businesses.
For more information, please contact:
Nompilo Morafo on +27 (0) 83 212 4022 | Nompilo.morafo@mtn.com
Karen Byamugisha on +27 (0) 83 214 3685 | Karen.byamugisha@mtn.com
Follow us:
www.twitter.com/MTNGroup
www.linkedin.com/company/mtn