Pixel 4, 4 XL Go Official With 90Hz OLED Screens And New Telephoto Cameras.
The elevator pitch for the Pixel 4 duo is "90Hz screens and dual cameras". The two flagships come at the tail end of 2019 and represent Google's views of the current perfect Android phone.
The screens are just about the only thing that sets the two models apart. The Google Pixel 4 features a 5.7" OLED panel with 1080p+ resolution. The XL model gets a larger, sharper 6.3" display with QHD+ resolution. In both cases, the aspect ratio is a clean 19:9 – there are no notches to complicate UI layout. There is a bit of a forehead that houses a lot of hardware, but more on that later.
The new Smooth Display feature enables 90Hz refresh rate. To save on battery, the display will revert to 60Hz when there's nothing interesting happening. The screen has HDR support and an Always On mode as before and gets a new Ambient EQ that tracks the surrounding light to optimize the colors on the display for the best viewing experience.
The Pixel 4 XL is equipped with the same camera hardware as its smaller sibling. The main shooter has a 12MP sensor with Dual Pixel autofocus. This camera has optical and electronic image stabilization, plus 1.4µm pixels and a bright f/1.7 aperture. However, it's the new Pixel Neural Core and Google's proprietary algorithms that will make the biggest impact on the image quality – not the sensor, lens or ancillary hardware.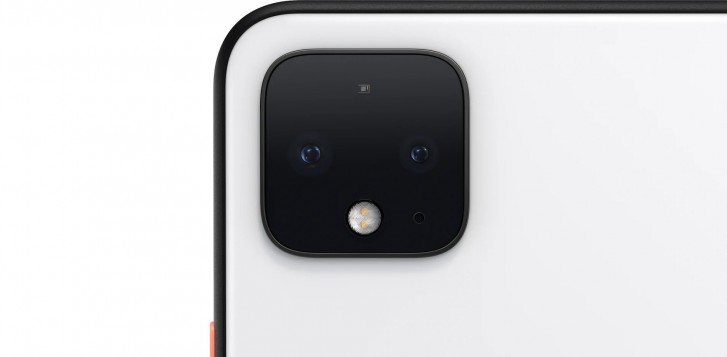 The new Pixel Neural Core, the camera app can render HDR+ in real time, showing you an approximation of the result in the viewfinder. This will help you adjust the exposure properly. The Dual Exposure Controls give you manual control over the shadow and highlight rendering. In extreme darkness, the revamped Nightsight can capture up to fifteen 16s exposures if you're into astrography.
The telephoto camera is new to the Pixel brand. It sports a 16MP sensor (1.0µm) plus OIS and EIS. The focal length is not quite double that of the regular camera, but the Super Resolution Zoom software will try to extend that beyond 2x zoom. The second camera also helps with bokeh rendering (previous models relied just on the Dual Pixel tech).
The main camera tops out at 4K 30fps video capture and a 120fps slow-motion mode at 1080p. Pixels never had the best video quality (though they've made up for that with top-notch video stabilization).
There's a third module on the back, but it's not a camera it's a spectral + flicker sensor. There's no ultrawide angle camera here, even though the Pixel 3 duo had one (on the front, but still).
Speaking of, the Pixel 4 phones have an 8MP selfie camera. What makes it special is the 3D depth sensor (structured light) that is used for secure face unlock (there's no fingerprint reader anywhere on this phone), plus bokeh in selfies.
Yet another piece of hardware above the screen is the Soli radar – that's right, radar rather than an optical system. This is more accurate when it comes to tracking hand gestures, but has the unexpected drawback of being disabled in some countries (e.g. Japan).
Anyway, Soli completes the hands-free experience of using a Pixel 4 – you can use it to check notifications or change tracks, for more complex actions you just say "Hey, Google" and talk to the new, updated assistant. Active Edge makes a comeback and you can trigger certain actions by squeezing the phone.
While the screen size is the obvious difference between the vanilla and XL models, the battery capacities are different too. The Pixel 4 gets a small 2,800mAh battery, the XL is much better off with a 3,700mAh battery.
In both cases they support 18W USB Power Delivery fast charging using the included charger. You can use a Qi wireless charger instead, which activates Ambient Mode – it offers at-a-glance info courtesy of the Assistant and turns the phone into a smart display.
We haven't mentioned the processing hardware yet and there's not much to tell. The two phones are powered by the Snapdragon 855 (non-plus) with 6GB of RAM. The base models get 64GB of storage, the only upgrade option is 128GB.
There's no microSD slot or any second card slot of any kind. Instead, you get the usual combo of nano-SIM plus eSIM. The good news is that the support for eSIM by carriers have expanded so it's almost as good as having a second SIM slot.
The Pixel 4 phones have an aluminum frame with a matte finish. The glass-covered back comes in three different colors: Just Black, Clearly White and the new Oh So Orange. But because the metal frame and square camera island on the back are always painted in black, the latter two options have a dual tone look. Note that Orange is a limited edition.
The phones are IP68 water resistant for extra durability and feature stereo speakers. We've come to see these things as standard on Pixels, so no surprises here.
The Pixel 4 phones are already up on pre-order in a number of countries – shipping begins on October 22 in the US and Taiwan and October 28 in Europe. Australia and Canada are getting them first – October 21.
Pricing starts at $800 for the 64GB Pixel 4 and $900 for the 64GB Pixel 4 XL. The storage upgrade is $100 on top of that. You can check out pricing for other markets here.
Ayoba Messaging Platform, Powered By MTN, Reaches 1M Active Users.
JOHANNESBURG – MTN Group today announced that its instant messaging platform, Ayoba has reached 1 million monthly active users. Ayoba is an advanced communications application localised for African and Middle East consumer needs, under an independent Over the Top (OTT) brand with unique features for MTN customers. The app supports many local languages spoken across the MTN markets including isiZulu, isiXhosa, Pidgin, Yoruba, Swahili, Hausa, French and English.
MTN, together with its partners, is driven to improve access to affordable communications to ensure that people in its markets can reap the social, economic and developmental dividends of being online. Ayoba underscores this goal to bring more people into the digital world by providing them with affordable and simplified digital communication services.
Some of its key features and offerings are: Local languages: Ayoba is available in the top local languages in the markets where the offering has launched, Chat now: Users can instantly send and receive text and voice messages with any of their contacts regardless of device type or network, Security: End-to-end encryption means that messages in a conversation cannot be read by anyone else, Chat with everyone: Users can send SMS text messages with anyone in their contact list, regardless of whether they've installed Ayoba or not, Channels: Users can subscribe to Channels for locally relevant content across various categories, Money transfers: Users will be able to make and receive payments via Mobile Money (coming soon).
Commenting on the milestone, MTN Group President and CEO, Rob Shuter said, "We believe that our customers in Africa and the Middle East deserve a communication platform that expresses our unique voice, honours our rich identity through local languages, and addresses our customers' specific needs and challenges by offering a data-included offering for MTN users, Mobile Money transfers (coming soon) and locally relevant content via channels."
The platform which was launched earlier this year is now operational in 8 MTN markets, namely: Cameroon, Cote d'Ivoire, Congo Brazzaville, Nigeria, Ghana, Guinea Bissau, Afghanistan and South Africa. Ayoba is also available across multiple markets on the Google Play Store and via the Ayoba website www.ayoba.me as an OTT offering.
As part of continuous efforts to enhance its offerings, Ayoba will be adding more features in the future. "Ayoba is also working on building an open digital platform that will enable third party innovation. This will ensure that we offer a rich diversified experience on the platform, enabling us to deliver more value to our users, empower local developers and create local experiences that are optimised for local communities," explains David Gilarranz, CEO MTN Digital.
Gilarranz adds that in addition to the number of exciting innovations on the cards Ayoba plans to expand to the rest of MTN's markets, and other territories across the globe. Before the end of the year, Ayoba will go live in Guinea Conakry, Liberia, Benin and Rwanda.
About the MTN Group
Launched in 1994, the MTN Group is a leading emerging market operator with a clear vision to lead the delivery of a bold new digital world to our 244 million customers in 21 countries in Africa and the Middle East. We are inspired by our belief that everyone deserves the benefits of a modern connected life. The MTN Group is listed on the JSE Securities Exchange in South Africa under the share code "MTN". We are pursuing our BRIGHT strategy with a major focus on growth in our data, fintech and digital businesses.
For more information, please contact:
Nompilo Morafo on +27 (0) 83 212 4022 | Nompilo.morafo@mtn.com
Karen Byamugisha on +27 (0) 83 214 3685 | Karen.byamugisha@mtn.com
Follow us:
www.twitter.com/MTNGroup
www.linkedin.com/company/mtn