Music Could Make Snapchat More Like TikTok
Snapchat could soon get more musical.
Snap has been "in talks" with a number of record labels in an effort to broker deals that would let the company add more music to its app, according to a recent report in The Wall Street Journal. The talks are not yet final but have "intensified in recent weeks."
If these talks do progress to actual licensing deals, it would mean Snapchat would be able to add musical features akin to Instagram and TikTok, both of which allow users to add short clips from popular songs to their posts. It's also the latest sign that Snap wants to do more to lure fans of TikTok to its service.
The app added a lip syncing "Lens Challenge" feature back in December, which allowed users to create lip sync videos with augmented reality effects. But that feature is locked inside of lenses, so it's not as easily accessible as music features in other apps like Instagram. Adding the ability to include music clips in any Snapchat video would, presumably, address that.
Facebook previously made deals with record labels, and has since added a number of new music features, including the ability to add songs to your profile, as well as a lip sync feature of its own.
But perhaps its most popular (or, at least, visible) music-driven feature is Instagram's Spotify integration. So while we don't know exactly what Snapchat's version of this will look like, or how it could work, it certainly sounds like the company wants to give music fans a similar experience.
Source: Mashable
Ursula Honored In Hungary.
Ghana's Communications Minister, Ursula Owusu-Ekuful has been recognized at the International Telecommunication Union (ITU) Telecom World Awards 2019 in Budapest, Hungary for her "exceptional commitment and participation as a valuable partner in ITU Telecom World events."
Presenting the ITU Telecom World Awards 2019 certificate of appreciation to Mrs Owusu-Ekuful, ITU's General Secretary, Houlin Zhao described the Ghanaian Communications Minister as an excellent and exceptional member of the Union.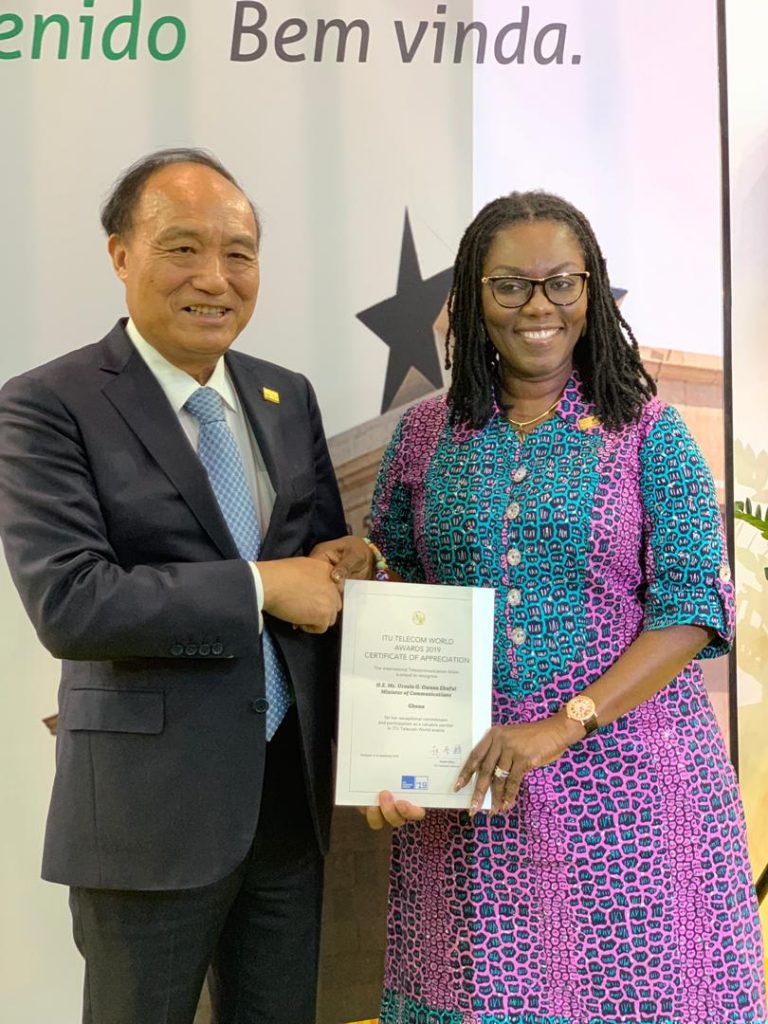 Reacting to the recognition, Mrs Owusu-Ekuful said, it's a great privilege for her modest efforts at the international level, on cooperation in developing and implementing ICT initiatives with colleague Ministers in the last two and half years, to be recognized and rewarded by the ITU."
She stated that, she is deeply humbled and elated, adding that, this award will encourage her to do even more, both locally and internationally to narrow the digital divide for the benefit of her country and people.
Meanwhile, the Accra Digital Centre, a Government of Ghana mini Technology Park, under the Ministry of Communications, set up to harness the digital potential of Ghana by promoting Digital entrepreneurship and innovation was announced as the 2019 winner of the International Telecommunication Union – ITU's Global Ecosystem Best Practice Award whereas Vokacom (Innovators of Ghana Post Digital address) emerged as winner of the Best Busines model at the 2019 ITU Telecom World in Budapest, Hungary.
The award, given by the Telecommunication Development Bureau of the ITU, recognizes and gives awards to hosts of Technology Innovation with best practices that enable innovators to develop ICT- centric solutions that can be globally recognized and scaled.