Huawei Responds To Android Ban
Fresh off the sledgehammer blow of having its Android license revoked by Google in response to US government demands, Huawei has issued its first, limited response, which leaves more questions open than it answers. In a statement emailed to The Verge, Huawei underscores its contributions to the growth of Android globally — which most recently saw the company's Android phone sales growing by double digits while every other leading smartphone vendor was shrinking or stagnant — and reassures current owners of Huawei and (subsidiary brand) Honor phones that they will continue to receive security updates and after-sales service. That promise also covers phones that are already shipped and in stock at stores globally, but no additional promises are made beyond that.
"Huawei has made substantial contributions to the development and growth of Android around the world. As one of Android's key global partners, we have worked closely with their open-source platform to develop an ecosystem that has benefitted both users and the industry.
Huawei will continue to provide security updates and after-sales services to all existing Huawei and Honor smartphone and tablet products, covering those that have been sold and that are still in stock globally.
We will continue to build a safe and sustainable software ecosystem, in order to provide the best experience for all users globally."
Google has already said that owners of Huawei phones will retain their access to the Play Store and continue being able to update their apps. The big thing that's being written out of their future, however, are further Android OS updates from Google. To get those back, Huawei phone owners and fans will have to hope for a resolution in the US-China trade dispute, which has been the trigger for Huawei's current blacklisting by the US government.
For its part, Huawei has been making preparations for an eventuality of losing access to software from US companies like Google and Microsoft, and it has been developing an in-house operating system alternative to Android. That may be what the company hints at in the final paragraph of its statement when it says it will "continue to build a safe and sustainable software ecosystem." Sustainable being the key word.
Source: The Verge.
Ursula Honored In Hungary.
Ghana's Communications Minister, Ursula Owusu-Ekuful has been recognized at the International Telecommunication Union (ITU) Telecom World Awards 2019 in Budapest, Hungary for her "exceptional commitment and participation as a valuable partner in ITU Telecom World events."
Presenting the ITU Telecom World Awards 2019 certificate of appreciation to Mrs Owusu-Ekuful, ITU's General Secretary, Houlin Zhao described the Ghanaian Communications Minister as an excellent and exceptional member of the Union.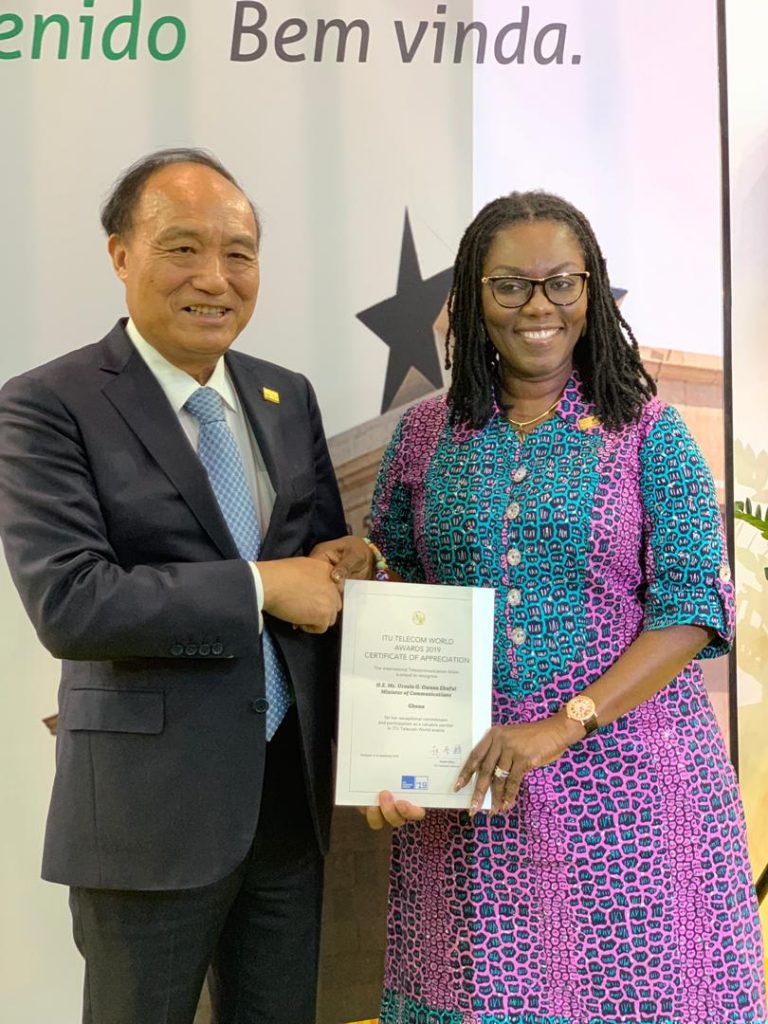 Reacting to the recognition, Mrs Owusu-Ekuful said, it's a great privilege for her modest efforts at the international level, on cooperation in developing and implementing ICT initiatives with colleague Ministers in the last two and half years, to be recognized and rewarded by the ITU."
She stated that, she is deeply humbled and elated, adding that, this award will encourage her to do even more, both locally and internationally to narrow the digital divide for the benefit of her country and people.
Meanwhile, the Accra Digital Centre, a Government of Ghana mini Technology Park, under the Ministry of Communications, set up to harness the digital potential of Ghana by promoting Digital entrepreneurship and innovation was announced as the 2019 winner of the International Telecommunication Union – ITU's Global Ecosystem Best Practice Award whereas Vokacom (Innovators of Ghana Post Digital address) emerged as winner of the Best Busines model at the 2019 ITU Telecom World in Budapest, Hungary.
The award, given by the Telecommunication Development Bureau of the ITU, recognizes and gives awards to hosts of Technology Innovation with best practices that enable innovators to develop ICT- centric solutions that can be globally recognized and scaled.