Ghana Signs Deal To Buy Six Aircraft.
Government on Tuesday, November 19, 2019, signed a deal with De Havilland Aircraft of Canada at the on-going Dubai Air Show to buy six Dash8-400 aircraft to start its national airline.
Citi Business News understands that the aircraft will be purchased by the first quarter of 2020.
The plan to reestablish a national carrier has been on the drawing board for some time now.
Following the signing of the agreement, issues of financing and others are expected to be finalized which will be presented to Cabinet for approval and then to Parliament.
The new deal, signed by the Aviation Minister, Joseph Kofi Adda, is expected to boost Ghana's dream of seeing to it that a new national airline hits the skies.
The Minister of Aviation, Joseph Kofi Adda, who signed the Memorandum of Understanding on Ghana's behalf, said "They're manufacturing Dash-8s, which used to be called Q-400, that can take upwards of 82 passengers. That will be able to serve the domestic and regional needs of the passengers. We've done our research and we've assessed all the aircraft available, and we think these ones are the ones most efficient and suitable given the weather and so on, that we can use to carry Ghanaians within the country and also send them to other West African countries all the way up to Senegal, The Gambia, Cameroun and Congo as well".
"So these are things that the route planning people will work on as far as the details are concerned. But we want to be sure we've got the critical sets of aircraft that the airline can start operating them."
Ghana has also signed an MOU (Letter of intent) for three (3) Boeing 787-9 planes.
"The second one is the Boeing 787-9, that's a long haul. Long haul means it goes trans-oceanic. It goes to Europe, North America, it can go to Middle East and Asia. These were signed for three of the aircraft. These are all Memorandum of Understanding; they're letters of intent indicating our desire to procure these aircraft. There are other processes we have to go through now with the manufacturers themselves, the government of Ghana, the approvals that would be required from all the government levels, we have to go through that between now and the end of the year to secure that."
The Minister says Government will be assessing the various options in procuring the aircraft.
"There are different ways of procuring an aircraft. There's a leasing arrangement which can go on with a third party paying for the aircraft, then you will pay periodically may be monthly or quarterly for the service of the aircraft with some down payment. There's also the outright purchase which is another option. So these are options that we've weighed and we will place before government. We're hoping that once government makes a decision on this, we will be able to make payments that are required for the aircraft to be delivered. We've been able to get some good discounts from where we are starting with the two manufacturers, and we think they're reasonable terms which I cannot disclose for now, but once I meet cabinet and parliament these will become public knowledge."
According to the Aviation Minister, a search is still ongoing on how to call the new national airline.
"So we're happy that this has brought us to one tip of the bridge, so once we conclude the procurement, then we cross over to the next end of the bridge which means that we're now airborne with a home-based airline. The name itself we're waiting to discuss that at the government level, and gathering some inputs from different parties."
Access Bank Wins Big At 2019 SERAS Awards. – (PHOTOS)
TruCSR, the company behind Nigeria's foremost awards for Corporate Social Responsibility and Sustainability, the SERAS Awards, announced during the 13th edition of the popular Awards that it would be partnering the international business magazine, Forbes, to release Nigeria's first CSR and sustainability ranking. The publication will be titled "Top 50 Organisations Making a Difference in Nigeria".
The affiliation with Forbes would attract international attention to companies in Nigeria that are investing in highly impactful CSR and sustainability programmes. The 13th edition of the SERAS Awards was themed "Driving Sustainability Through Inclusive Growth: Strategic Partnership as Key to Unlocking Opportunities", a reflection of the crucial role CSR has to play in achieving inclusive economic growth.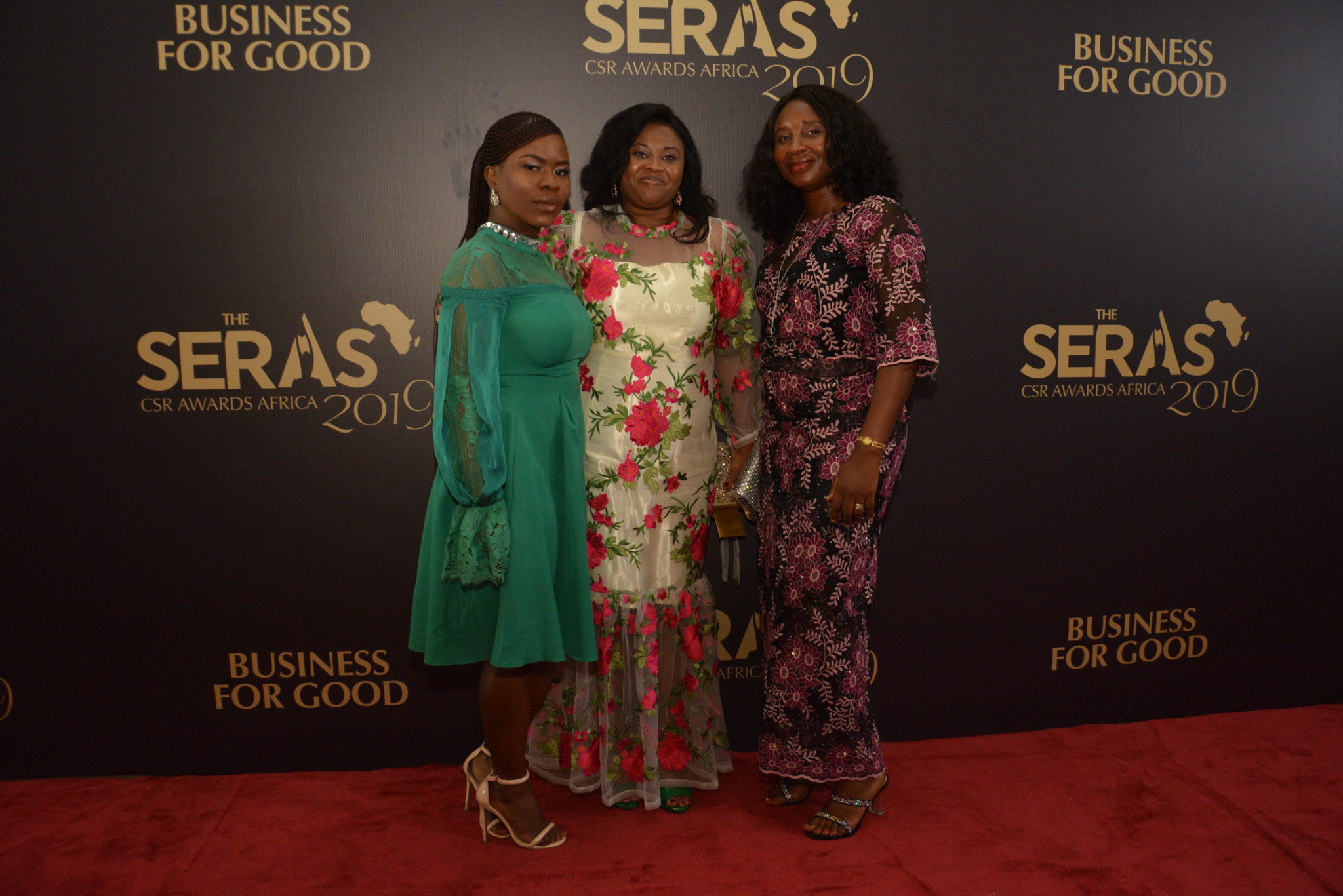 Over the last 13 years, the SERAS has attracted over 900 entries from almost 300 of Nigeria's leading corporations and multinationals. About 250 awards have been handed out following a rigorous process that involved detailed analyses of over 5,000 sustainability projects in Nigeria and other African countries. The winning projects have been documented as best-in-class CSR projects in Africa, models for companies seeking to make social and economic impact in Africa to follow. According to Ken Egbas, Founder of the SERAS Awards, the 2019 edition has had the highest number of first-time participants, 29. Over 15,000 CEOs and top public officials have attended the awards ceremony.
The biggest winner at SERAS 2019 was Access Bank which clinched four awards (Best company in sustainability reporting, Best company in partnership for development, Best corporate communications team award and Best company in climate action), closely followed by Dangote Rice which won two awards (Best company in eradication of hunger and food security and Social enterprise award). Olumide Orojimi (NSE) emerged as the winner of the CSR/Sustainability practitioner of the year, while Omobolanle Victor Laniyan (Access bank) and Victoria Ndee Uwadoka (Nestle), were announced as the first runner-up and second runner-up respectively.
Categories/Winners
Best Company in poverty eradication: Nigeria LNG Limited
Best company in eradication of hunger and food security: Dangote Rice
Best company in promotion of good health and well-being: Zenith Bank
Best company in education: Nigerian bottling company
Best company in provision of water and sanitation: Nestle
Best company in provision of clean and affordable energy: International Breweries plc
Best company in infrastructure development: Chevron
Best company in partnership for development: Access bank
Best company in environmental excellence: Union bank
Best workplace practices: HIS
Best company in stakeholder engagement: Coca-Cola
Best company in supply–chain engagement: Dangote Cement
Social enterprise award: Dangote rice
Best company in promotion of gender equality and women empowerment: Unilever
Best company in climate action: Access bank
Non-for-profit of the year: ACT
Best corporate communications team award: Access bank
Best company in sustainability reporting: Access bank
Best company in CSR reporting: Media (Television, Print, Radio, Online): Channels TV
The Seras' innovation prize: Union Bank
CSR/Sustainability practitioner of the year: winner; Olumide Orojimi (NSE), First runner-up; Omobolanle Victor Laniyan (Access bank), Second runner-up; Victoria Ndee Uwadoka (Nestle),
Best new entry: Flour Mills
Best use of storytelling to drive sustainability: Airtel