Apple Shuts Down Screen Limiting Apps, But Its Own Version Is Flawed.
With Apple's iOS 12 arrival in September, iPhone users saw "Screen Time" features make their way to phone screens to counter-intuitively help them spend less time on their phones. But Apple's built-in phone addiction fighting tool isn't necessarily the best way to decrease screen time.
Although users could finally track phone and specific app usage while also limiting the amount of time spent on the phone and in apps, it didn't instantly eliminate the problem. For parents, it offered a way to manage kids' tech and connected time. The tool was a long time coming (Google's similar wellbeing tool for Android phones was available in Aug. 2018), but other apps had stepped up over the years to offer phone addicts and parents similar, yet often expanded, features.
A New York Times report Saturday found that 11 of the top third-party screen time and parental control apps have been removed from Apple's App Store or forced to change features. While that's concerning about Apple's power to destroy apps and businesses it views as competitors, it also weakens everyone's options for better phone control.
It almost feels like Apple's repeated line that "We don't want people using their phones all the time," is as hollow as it sounds. Of course the company doesn't want users addicted to screens and unhealthily attached to their phones, but as the NYT report makes clear, it seems the iPhone maker is doing a lot to minimize your options around customizing phone usage.
Apple did not respond to a request for comment about the third-party app removals or more about its own tools and features.
Now parents and compulsive phone users are limited to Apple's native tools, all dubbed "Screen Time." While for many it's a perfectly fine solution that reminds you to log off or look away, for others it's not as powerful as what third-party options once offered.
Some glaring issues immediately come up with Apple's Screen Time. Mostly that it's easy to get around the limits. Kids quickly figured out how to game the controls and get into YouTube or game apps that parents had restricted. For adults, time limits for social media apps or others require a lot of self-control. With just your passcode you can allow the phone to let you back onto Facebook all day if you want.
Another issue: for families, Screen Time requires the entire fam to have an iPhone. Other restriction apps gave parents the ability to manage their kids' Android phone from their iPhone.
Other issues that various apps addressed included weak coverage with Apple's tool, like how it only blocks content in the Safari web browser for mobile, not Chrome or others; or multiple users using the same device. You don't want your kid's limits set while you're on the same iPad.
Source: Mashable
Ursula Honored In Hungary.
Ghana's Communications Minister, Ursula Owusu-Ekuful has been recognized at the International Telecommunication Union (ITU) Telecom World Awards 2019 in Budapest, Hungary for her "exceptional commitment and participation as a valuable partner in ITU Telecom World events."
Presenting the ITU Telecom World Awards 2019 certificate of appreciation to Mrs Owusu-Ekuful, ITU's General Secretary, Houlin Zhao described the Ghanaian Communications Minister as an excellent and exceptional member of the Union.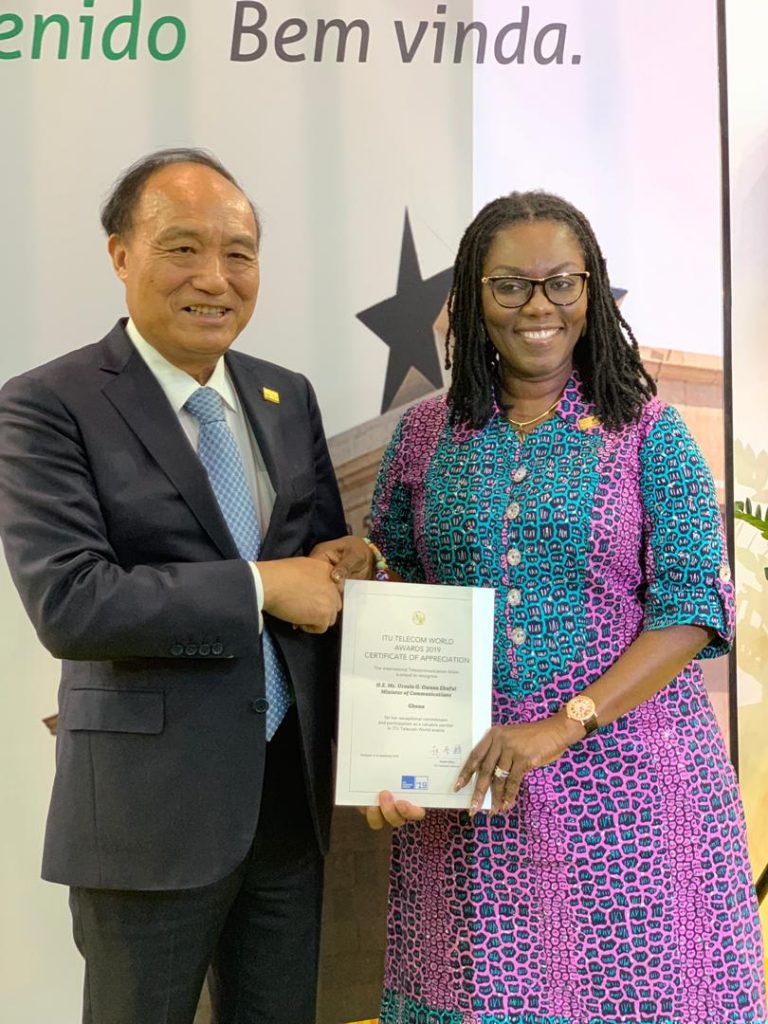 Reacting to the recognition, Mrs Owusu-Ekuful said, it's a great privilege for her modest efforts at the international level, on cooperation in developing and implementing ICT initiatives with colleague Ministers in the last two and half years, to be recognized and rewarded by the ITU."
She stated that, she is deeply humbled and elated, adding that, this award will encourage her to do even more, both locally and internationally to narrow the digital divide for the benefit of her country and people.
Meanwhile, the Accra Digital Centre, a Government of Ghana mini Technology Park, under the Ministry of Communications, set up to harness the digital potential of Ghana by promoting Digital entrepreneurship and innovation was announced as the 2019 winner of the International Telecommunication Union – ITU's Global Ecosystem Best Practice Award whereas Vokacom (Innovators of Ghana Post Digital address) emerged as winner of the Best Busines model at the 2019 ITU Telecom World in Budapest, Hungary.
The award, given by the Telecommunication Development Bureau of the ITU, recognizes and gives awards to hosts of Technology Innovation with best practices that enable innovators to develop ICT- centric solutions that can be globally recognized and scaled.