Apple Defends Removing Parental Control Apps.
Apple has defended its decision to remove a number of parental control apps from the App Store, citing security concerns.
Several app-makers complained to the New York Times that Apple had taken their products off sale when it launched its own similar tools.
But Apple said the apps were removed because they "put users' privacy and security at risk".
It said the apps had been given time to make changes to meet Apple's rules.
The latest version of Apple's iOS mobile operating system added Screen Time tools, which let people see how much time they spend using their favourite apps.
The tools also let parents control how much time their children can spend on apps and websites.
Some app-makers claimed Apple had removed their products from the App Store after Screen Time was launched, and said it was trying to limit competition.
However, in a blog post, Apple said it had taken action against apps that were using "risky" Mobile Device Management (MDM) to control children's smartphones.
Many corporations and organisations use MDM to control what employees do on their phones. It lets businesses keep an eye on what staff are doing, and even wipe their phones remotely.
Apple said it was not appropriate for family-focused time management tools to use MDM.
"MDM gives a third party control and access over a device and its most sensitive information, including user location, app use, email accounts, camera permissions, and browsing history," Apple said in a blog.
"It is incredibly risky – and a clear violation of App Store policies – for a private, consumer-focused app business to install MDM control over a customer's device.
"Contrary to what The New York Times reported over the weekend, this isn't a matter of competition. It's a matter of security."
The company said it had given a number of affected apps 30 days to submit updated software that did not break its rules. It said many of the companies did make changes and were not removed.
Source: BBC News.
Ursula Honored In Hungary.
Ghana's Communications Minister, Ursula Owusu-Ekuful has been recognized at the International Telecommunication Union (ITU) Telecom World Awards 2019 in Budapest, Hungary for her "exceptional commitment and participation as a valuable partner in ITU Telecom World events."
Presenting the ITU Telecom World Awards 2019 certificate of appreciation to Mrs Owusu-Ekuful, ITU's General Secretary, Houlin Zhao described the Ghanaian Communications Minister as an excellent and exceptional member of the Union.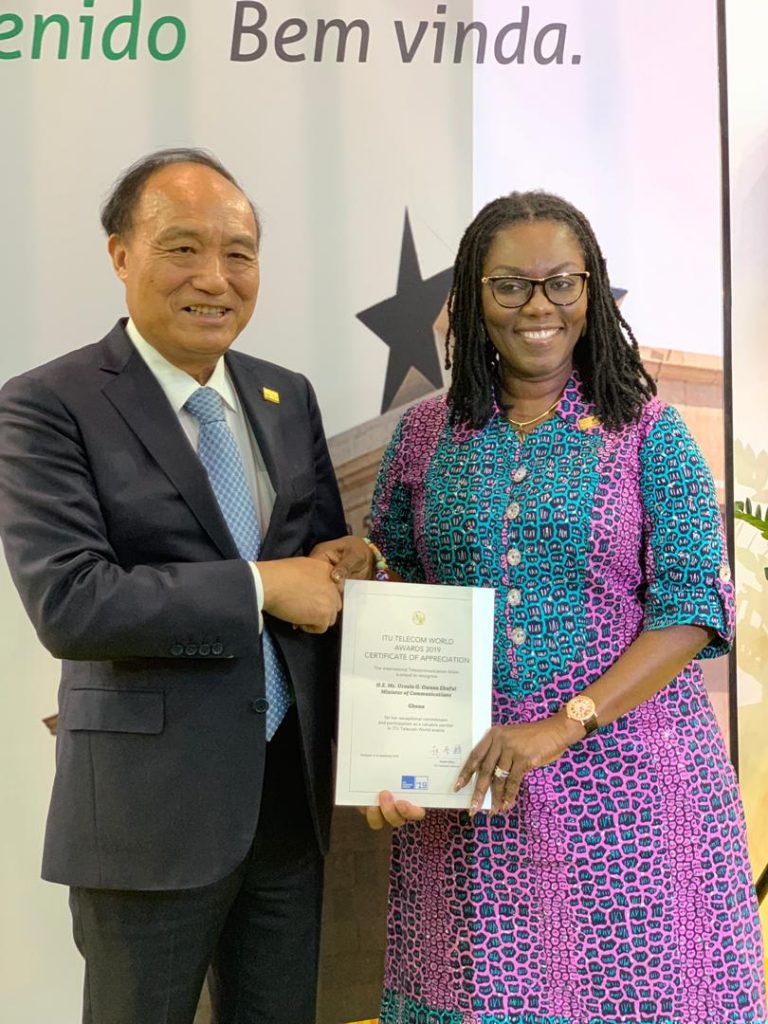 Reacting to the recognition, Mrs Owusu-Ekuful said, it's a great privilege for her modest efforts at the international level, on cooperation in developing and implementing ICT initiatives with colleague Ministers in the last two and half years, to be recognized and rewarded by the ITU."
She stated that, she is deeply humbled and elated, adding that, this award will encourage her to do even more, both locally and internationally to narrow the digital divide for the benefit of her country and people.
Meanwhile, the Accra Digital Centre, a Government of Ghana mini Technology Park, under the Ministry of Communications, set up to harness the digital potential of Ghana by promoting Digital entrepreneurship and innovation was announced as the 2019 winner of the International Telecommunication Union – ITU's Global Ecosystem Best Practice Award whereas Vokacom (Innovators of Ghana Post Digital address) emerged as winner of the Best Busines model at the 2019 ITU Telecom World in Budapest, Hungary.
The award, given by the Telecommunication Development Bureau of the ITU, recognizes and gives awards to hosts of Technology Innovation with best practices that enable innovators to develop ICT- centric solutions that can be globally recognized and scaled.