Akon To Build 'Real-Life Wakanda' Using A Currency Called AKoin
Akon says he's planning to release a new cryptocurrency named after himself – called Akoin.
Speaking at the Cannes Lions Festival on Monday, the Locked Up singer said he believed cryptocurrency could be "the saviour of Africa".
AKoin's official website says the singer wants the app "on every mobile phone" between now and December.
And Akon says he's also planning to build a "crypto city" in Senegal which he calls "a real-life Wakanda".
Just like the fictional land of Wakanda in Marvel's Black Panther, Akon promises says his city will be a "futuristic environment".
The website says Akon has been "gifted" 2,000 acres of land by the President of Senegal to build the city – which is also named after himself.
Akon Crypto City will apparently be "a short drive" from Dakar, the capital of Senegal.
He calls it "the first 100% crypto-based city with AKoin at the centre of transactional life".
Under the "Akoin Ecosystem", consumers will be able to buy, hold and spend cryptocurrency straight from their smartphones.
"It brings the power back to the people and brings the security back into the currency system," Akon explained.
"It also allows the people to utilise it in ways where they can advance themselves and not allow government to do those things that are keeping them down."
However, Akon admitted he didn't know all the technical aspects of his new venture.
"I come with the concepts and let the geeks figure it out," he said.
What is cryptocurrency?
Cryptocurrency is a digital or virtual currency that operates independently from a central bank.
It uses cryptography (the conversion of information into an almost uncrackable code) to secure and verify transactions.
This makes it extremely difficult to counterfeit.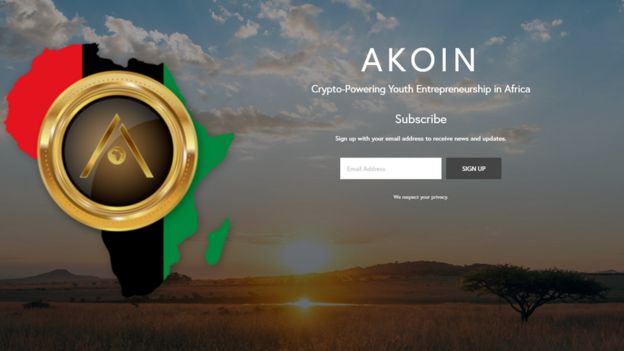 The first and probably most famous cryptocurrency is Bitcoin, which was created by an unknown person using the name Satoshi Nakamoto in 2009.
Several celebrities have endorsed or invested in cryptocurrency, including Katy Perry, 50 Cent and Ashton Kutcher.
Akon's others ventures in Africa
AKoin is one of many projects Akon has announced in Africa.
While he was born in Missouri, Akon is of Senegalese descent and spent much of his childhood there.
In 2007 he co-founded the Konfidence Foundation, a health and education charity for underprivileged children in West Africa and the United States.
He also co-founded the Akon Lighting Africa project in 2014, which Akon's site says has brought solar power to 18 African countries so far.
Source; BBC
Meet Godwin Kofi; The Barber With A Degree.
With the dream of becoming a successful entrepreneur from childhood, Godwin Kofi, a young boy from Asesewa saw himself through school giving his peers exquisite haircuts for favours and has now graduated successfully with a degree in Administration from the University Of Professional Studies.
The 2018 batch of graduates from the University Of Professional Studies maybe a lot, but the barber with a degree even among the thousands couldn't go unnoticed.
In an interview with Bernard Avle on Citi FM, he narrated how he meanders his way through school; from Senior High school to the University and life after University.
"After Junior High School, my Dad helped me opened up a space to space shop from which I raised money to pay my Senior High School fees at the Akuamuman Senior High School. In school, I was giving my colleagues haircuts all throughout till I graduated. Unfortunately for me, Dad was overburdened as my other siblings' were also in school so I had to stay at home for a year before going to the University. During that period I was going from house to house to give people haircuts for free till a friend hooked me up with someone who helped open a shop for me at Asesewa to take care of the people who always had to travel to the Regional capital Koforidua to get haircuts. My first task was to impress them and to stop them from travelling to get a cut. At the time I was charging GHC 2.50 per cut." Shared by Godwin Kofi; The barber with a degree.
On his ordeal at UPSA, he shared how hard-hitting it was to joggle between school and barbering, but was left with no choice than to simultaneously find a balance between the two.
"At UPSA I was perching my friends and giving them haircuts till I was able to get a place where I now work and make money, I have studied Administration, I'm a good barber and a cook. I really don't need a job from anyone as I have already created the needed avenue for making money. Setting up a business around it is my focus."
The barber with a degree as he is referred to by his friends is the last born of four who hails from Asesewa, a small township in the Eastern Region of Ghana and was born to the Kofi family. He started off with his basic education at Ebenezer Preparatory School and furthered to Akwamuman Senior High School then to the University Of Professional Studies, Accra.
He currently works with Nate the barbers place at East Legon. To get close and personal, you can follow him on Twitter; @degreebarber, Fcaebook; Reflect Out and on Instagram @reflect_out.