Akon To Build 'Real-Life Wakanda' Using A Currency Called AKoin
Akon says he's planning to release a new cryptocurrency named after himself – called Akoin.
Speaking at the Cannes Lions Festival on Monday, the Locked Up singer said he believed cryptocurrency could be "the saviour of Africa".
AKoin's official website says the singer wants the app "on every mobile phone" between now and December.
And Akon says he's also planning to build a "crypto city" in Senegal which he calls "a real-life Wakanda".
Just like the fictional land of Wakanda in Marvel's Black Panther, Akon promises says his city will be a "futuristic environment".
The website says Akon has been "gifted" 2,000 acres of land by the President of Senegal to build the city – which is also named after himself.
Akon Crypto City will apparently be "a short drive" from Dakar, the capital of Senegal.
He calls it "the first 100% crypto-based city with AKoin at the centre of transactional life".
Under the "Akoin Ecosystem", consumers will be able to buy, hold and spend cryptocurrency straight from their smartphones.
"It brings the power back to the people and brings the security back into the currency system," Akon explained.
"It also allows the people to utilise it in ways where they can advance themselves and not allow government to do those things that are keeping them down."
However, Akon admitted he didn't know all the technical aspects of his new venture.
"I come with the concepts and let the geeks figure it out," he said.
What is cryptocurrency?
Cryptocurrency is a digital or virtual currency that operates independently from a central bank.
It uses cryptography (the conversion of information into an almost uncrackable code) to secure and verify transactions.
This makes it extremely difficult to counterfeit.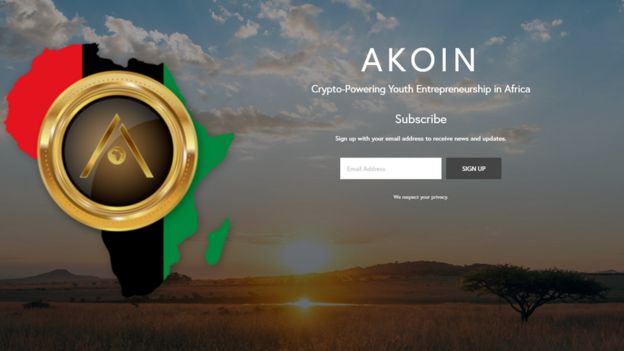 The first and probably most famous cryptocurrency is Bitcoin, which was created by an unknown person using the name Satoshi Nakamoto in 2009.
Several celebrities have endorsed or invested in cryptocurrency, including Katy Perry, 50 Cent and Ashton Kutcher.
Akon's others ventures in Africa
AKoin is one of many projects Akon has announced in Africa.
While he was born in Missouri, Akon is of Senegalese descent and spent much of his childhood there.
In 2007 he co-founded the Konfidence Foundation, a health and education charity for underprivileged children in West Africa and the United States.
He also co-founded the Akon Lighting Africa project in 2014, which Akon's site says has brought solar power to 18 African countries so far.
Source; BBC
Ghana's Roberta Annan To Launch €100 Million New Investment Fund For Africa At 2018 Paris Peace Forum In Partnership With UN ITC & EU
On November 12th 2018, the Ethical Fashion Initiative alongside African Fashion Fund and the European Commission (EC) will launch a 'one hundred million euro fund' (100million) the Impact Fund For Africa (IFFA) a new investment fund supporting African creatives working in the fashion and lifestyle industries.
Launching in Paris during the Paris Peace Forum, an initiative by French President Emmanuel Macron, with the attendance of over 84 Heads of States, The United Nations Secretary General and many dignitaries, the proposed fund will address the investments needed to leverage the power of creative and cultural industries to expand the social capital of Sub-Saharan African countries and thus contributing to the United Nations Sustainable Development Goals, as well promote inclusive growth in these economies.
The Impact Fund for Africa (IFFA) will be managed by Roberta Annan Capital Partners (RACP) with members from the EFI serving as non-exec board members and managing the sustainability committee, which will contribute to the mobilisation of private capital for the financing of investments in support of the African creative and lifestyle industry.
For over ten years the Ethical Fashion Initiative (EFI) has invested in refining production systems that enable production with community groups of micro-entrepreneurs in target countries. Working in the luxury and lifestyle sectors supporting international companies such as Vivienne Westwood and Stella McCartney source high-quality and ethically-produced artisanal goods from some of the developing world's most difficult environments.
AFF Founder, Roberta Annan says: "I am thrilled about this partnership with the EFI and the EU. I believe it will give African brands the indispensable funding and resources to participate competitively in the global fashion economy."
EFI Chief Technical Advisor, Simone Cipriani says: "We are incredibly excited to launch this investment fund for Africa knowing the direct impact this investment will have on the growth of creative industries in Sub-Saharan Africa. To launch this at the Paris Peace Forum is fitting – ethical work, provides an alternative path for hundreds of thousands of people living in poverty, while lifting the continent's vibrant creative sector."
Showcasing the direct impact and potential of the fund, the fund will be launched on the 12th November (15:15-16:00, Press Room) with the presence of Ms. Roberta Annan, Managing Partner of Roberta ANNAN CAPITAL PARTNERS, Founder of the African Fashion Fund (AFF) and M. Simone CIPRIANI, Founder and Chief Technical Advisor of the Ethical Fashion Initiative (ITC). This launch will include a unique fashion show featuring three leading African designers on the 13th November (13-13:30, Agora), immediately followed by an interactive press-pitch led by Ms. ANNAN and Ms. Marjeta JAGER, Deputy-Director of the Development Office for International Cooperation (EC). The African designers selected to present their work are:
• Duaba Serwa – a contemporary Ghanaian fashion brand founded in 2011, the brand has been featured on CNN, Forbes, Vogue Italia and Deutsch Welle;
• Sophie Zinga – a socially conscious womenswear brand featuring hand-woven Senegalese cloth and semi precious stones;
• Chocolate by Kwaku Bediako – A Ghanaian fashion brand which draws inspiration from the rich Ghanaian culture, lifestyle, taste and preferences.
The chocolate brand has grown rapidly in this past few years due to detailing, passion to become the best custom made menswear fashion brand in Ghana.
Allocations for the proposed fund will come from private business and institutional sectors (family offices and foundations), with a component of seed funding and guarantee instruments from the EU and other international organizations. The private capital will be mobilised by EFI and AFF through institutional investors and private companies that will participate in investments. The fund seeks to create an investment potential to cover the gap between public intervention and business reality in the creative and fashion sectors of Sub-Saharan Africa.
About African Fashion Fund (AFF)
The African Fashion Fund (AFF), part of the Roberta Annan Capital Partners (RACP), focuses on education and capacity building for African brands. RACP is a registered Mauritius Company with subsidiaries to be registered in the Netherlands, United Kingdom and Luxembourg. RACP focuses on Wealth Management and Impact investments. It has an Impact Investment portfolio, Frallain Group, a UK registered entity that provides risk capital to African brands and incorporates social iimpact within their brands ethos, providing a platform with industry experts in fashion, sales and distribution, PR and communication for the commercialization of these brands.
About the Ethical Fashion Initiative
The Ethical Fashion Initiative is a flagship programme of the International Trade Centre, a joint agency of the United Nations and the World Trade Organisation. The Ethical Fashion Initiative enables artisans living in urban and rural poverty to connect to top luxury lifestyle brands. The Initiative also works with the rising generation of fashion talent from Africa, encouraging the forging of fulfilling creative collaborations with artisans on the continent. The Ethical Fashion Initiative projects in Burkina Faso, Mali, Afghanistan are funded by the European Union. 2019 will mark the beginning of a new and innovative project, in Central Asia, East and West Africa.
About the Paris Peace Forum
The Paris Peace Forum is an independent NGO, formed in 2018 after the original impetus came from President Macron in the summer of 2017. The first edition of the Paris Peace Forum (11-13 November 2018) will be inaugurated by Heads of State and Government, or their representatives, from the 84 countries invited by the President of the French Republic to participate in the commemorations alongside other political leaders invited for the occasion
For more information
For more information
ITC Ethical Fashion Initiative
Chloé Mukai E: [email protected]
W: www.ethicalfashioninitative.org
F acebook: ITC Ethical Fashion Initiative
Instagram: @ethicalfashion
Twitter: @_ethicalfashion
African Fashion Fund
Bose Anaboye E: [email protected]
W: www.africanfashionfund.com
Instagram: africanfashionfund
Twitter: FashionFundAFR