18 Reasons Why You've Got Cramps But No Period
You've been seriously bloated, moody, and tired. You've got monster cramps, and your face is as simply as a 17-year-old boy's. In other words, you're suffering from all of the classic signs of your monthly flow—but your period is totally MIA.
First: Don't freak. It turns out, there are tons of reasons you've got those tell-tale period symptoms, but no period.
"Hormonal changes related to ovulation can affect some of the same pathways in your brain that might be affected by other medical conditions, causing mood swings that feel similar to your period but aren't related to ovulation or menses," says Chailee Moss, M.D., an ob-gyn at Johns Hopkins Medicine.
What's more, some physical abnormalities in your uterus and ovaries can also cause cramping that feels like PMS, she adds.
While skipping a period every now and then is usually nothing to worry about, if you have a fever, significant nausea or vomiting, or pain that you can't control with simple OTC medications or that doesn't improve within a week, check in with your doctor right away.
Otherwise, it's time to see your doc if you skip more than three cycles in a row, suggests Chicago-based ob-gyn Jessica Shepherd, M.D.—here's what might be going on down there.
1. Anovulation
Every once in a while, your body goes through all of the hormonal changes associated with PMS, but if you didn't actually release an egg that month, you won't actually get your period. Known as anovulation, it's more common than one might think. "Ten to 18 percent of all regular cycles are anovulatory," Shepherd adds. In case you're wondering, yes, that stat can make getting pregnant tricky!
2. Pregnancy
If you've had unprotected sex in the last month, were a bit lax about taking your pill, or rely on the pullout method for birth control, it's worth taking a pregnancy test. Many of the symptoms of early pregnancy, including breast tenderness, mood swings, fatigue, and cramping, are the same ones that you were already experiencing month to month before and during your period.
3. Thyroid conditions
Your thyroid, a small butterfly-shaped gland in your neck, regulates many of your body's functions, including your metabolism and menstrual cycles. If your thyroid gets out of whack, your cycles can become irregular, says Shepherd. The result: You may you go a long stretch without having your period while still experiencing period-like symptoms, says Moss.
Because your thyroid regulates your brain function, mood swings that you thought were PMS may be related to your neurologic function, she explains. And spotting or cramping may occur because the lining of your uterus has built up but hasn't shed because you're not ovulating.
Be sure to check in with your doctor if you're experiencing other symptoms of a thyroid condition, including sudden unexplained weight loss or gain, shaking, heart palpitations, or significant fatigue.
4. Hormonal Birth Control
One very common side effect of hormonal IUDs is skipped periods. That's because one of the ways the device prevents pregnancy is by thinning out the endometrial lining so there's nothing to shed come that time of the month.
And, while they don't typically nix your flow altogether, birth control pills can result in super-light flows or spotting. So you might feel period symptoms like breast tenderness even without a heavy, full-blown period, says Shepherd.
5. Stress
Stress is a surprisingly common reason for missing your period. "Stress increases your cortisol levels, which affects your hormone balance," says Shepherd—including the hormones that regulate your ovaries and uterine lining.
Exams, deaths, and even breakups are all big-time stress-inducing events that can cause periods to go awry. But these life-changing biggies aren't the only reasons you might be feeling the effects of stress.
"Some people don't realize they're so stressed, but once they talk about it they realize they are going through something," says Shepherd. If you think stress is messing with your periods, talk to your doctor; therapy, exercise, yoga, and meditation can all help get your stress under control and your periods back on track.
6. Polycystic Ovarian Syndrome (PCOS)
Frequent skipped periods can be caused by PCOS. "PCOS is a condition in which a patient has an excess of androgens, which are chemicals in the body that affect ovary function, hair growth, weight gain, and sensitivity to insulin," says Moss.
UP TO 20 PERCENT OF WOMEN ARE AFFECTED BY PCOS.
PCOS can result in anovulatory cycles and irregular spotting. It commonly causes cysts to grow on the ovaries, which, if they rupture or cause the ovary to twist, can cause pelvic pain that feels a lot like period cramps.
Up to 20 percent of women worldwide are affected by PCOS, and it's more common among women who are overweight or have a mom or sister with by the condition, Moss says. If you think you might be suffering from PCOS, check in with your doctor. While there is no cure, birth control and other medications can help keep symptoms under wraps and get your periods back on track.
7. Uterine Polyps
You might associate polyps with your colon, but the same small benign tumors can grow in your uterus. "It's an overgrowth of lining of the uterus," says Moss. Polyps in your uterus can cause cramping and period-like discomfort, even when you're not on your period.
Because polyps can make it harder to get pregnant, and because there is a small risk they may develop into uterine cancer down the line, your doctor will likely want to remove them, most often with a relatively simple procedure known as a hysteroscopy. During a hysteroscopy, a doctor inserts a long tube up through the vagina and into the uterus. The doctor is able to use the scope to both see and cut out the polyps.
8. Ovarian Cysts
Every month, your ovaries make several cysts in preparation for ovulation, but only one cyst releases an egg. Although the others usually dissipate on their own by the time you get your period, sometimes one cyst or more sticks around.
Cysts can also occur if you have an anovulatory cycle (such as with PCOS). Ovarian cysts often cause no symptoms at all, although they can sometimes trigger period-like pain when you're not on your period. So if you're experiencing irregular cramping, talk with your doctor.
"Cysts in and of themselves aren't usually a problem," says Moss. "But if they get particularly large, they can cause the ovary to twist—a.k.a., an ovarian torsion—which is painful and requires an emergency procedure to save your ovary."
9. Pelvic Inflammatory Disease (PID)
Cramping is a common symptom of PID, which is an infection of the uterus, fallopian tubes, or ovaries that typically occurs when sexually transmitted bacteria spread from your vagina to your reproductive organs.
"Sexually transmitted infections such as chlamydia and gonorrhea are the typical culprits of this serious pelvic infection that can lead to pelvic pain and infertility," says Sherry A. Ross, M.D., an ob-gyn and author of She-ology. "Make sure you're getting regular STI checks between new sexual partners to ensure you are not a carrier of damaging STIs."
10. Urinary Tract Infections (UTI)
One common symptom of a UTI is pelvic cramping, Ross says. "Other symptoms include frequency, urgency, and pain and burning with urination, as well as bleeding with urination." If you think your cramps might be associated with a UTI, head to your ob-gyn or primary care physician ASAP; left untreated, a UTI could turn into life-threatening kidney infection.
11. Mittelschmerz
If you've got PMS-like cramping, bloating, and breast tenderness but no period, one reason may be that it's not quite time for your period yet—but it's coming.
German for "middle pain," mittelschmerz happens about half-way through your menstrual cycle—around day 14 when you ovulate, says Nicole Scott, M.D., an ob-gyn at IU Health. It's a totally normal experience—affecting about 20 percent of women—and it doesn't mean anything is wrong, she says. Since it's just your ovaries doing their thing, there's not much you can do to prevent it and the symptoms should go away within a day or two but if it's extremely painful or comes with any sign of infection, call your doc, she adds.
12. Exercising Too Much
Hitting the gym on the regular is one of the best things you can do to help deal with PMS, but working out too hard or too often can actually mess up your cycle and in some cases make you miss your period all together, Scott says.
All that physical stress, especially if you lose a lot of body fat, can make your period go AWOL and cause abnormal fluctuations in your hormone levels. These fluctuations can cause moodiness, irregular spotting, acne, and other PMS-like symptoms. If you miss your period for three cycles or more in a row, talk to your doctor.
13. Certain Sex Positions
It's ironic that something so pleasurable can also lead to pain. "Experiencing cramping or pain after sex is completely normals," says Ross.
The culprit? "Some sexual positions are known to be anatomically harder on the vagina and female organs including the uterus and ovaries," she says. "For example, doggie style allows deeper penetration but can cause discomfort for many women, while missionary position tends to be easier and more comfortable for women." Experiment with your partner to figure out which positions are best for your body.
14. Interstitial Cystitis
This painful bladder syndrome, which affects women more often than men, can also cause cramping in the lower abdominal area, Ross says.
Also known as "painful bladder syndrome," other symptoms of interstitial cystitis are similar to a urinary tract infection, including pelvic pain, pain between the vagina and anus in women, pain during intercourse, and a continual strong urge to urinate. The exact causes of this condition aren't known, but it may be associated with a defect in the protective lining (epithelium) of the bladder, an autoimmune reaction, infection, or allergy. It may also be hereditary.
15. A Miscarriage
Miscarriages are much more common than you might thing—every pregnant woman has a 25 percent chance of having a miscarriage, says Ross.
Signs of a miscarriage can include severe menstrual-like cramping. If you're pregnant and are experiencing severe cramping, contact your doctor immediately.
16. Endometriosis
Endometriosis occurs when tissue that typically grows inside of the uterus, grows outside of it—typically in the pelvic area, which can cause significant cramping, says Ross.
Pelvic pain associated with endometriosis differs from regular PMS pain in that it often shows up days or weeks earlier than typical PMS cramping, and may last for days even after your period is done (so, basically, you have very few pain-free days throughout your cycle). Endometriosis cramping also comes without those other PMS symptoms like mood swings.
17. Irritable Bowel Syndrome (IBS)
"Lower abdominal cramping is a common complaint in women suffering from IBS," Ross says.
The intestinal disorder is associated with recurring abdominal pain or discomfort along with altered bowel habits over a period of at least three months. These can include constipation, diarrhea, or the double whammy—both constipation and diarrhea, Ross says, which, yes, is totally possible.
18. Ovarian Cancer
Ovarian cancer is relatively rare, affecting only about 22,000 women a year in the U.S., but it's one of the deadliest cancers for women, killing about 14,000 women a year. A big part of this is because it often shows no, or very subtle, symptoms, Scott says.
Missing your period isn't the most common symptom of ovarian cancer—those are abdominal bloating, urinary problems, weight loss, and pain—but it is a possible symptom, according to the American Cancer Society. So if you've missed your period for three months or more or you have other concerning symptoms, call your doc STAT.
Source: Ghana Web
How To Love Your Body At Every Size.
After years of battling with negative body image, writer, comedian and self-proclaimed fat activist Sofie Hagen, 30, is no longer ashamed of taking up space. Here's how, in Sofie's words, to love your body at every size and alter your perception of what it means to be fat…
How to love your body?
You can just change your mind.
If you continue to believe that fat is inherently a bad thing, you will spend the rest of your life fearing it. Each meal can become a threat. A life full of limitations, restrictions and negativity. All in order to become or stay thin. Most people live like this – because we have been taught that thin means happy. Look at those beautiful and thin women in the diet ads, laughing at salads. Who would not want to be so happy that they find themselves erupting into laughter over lettuce?
So here is the trick. You can actually be just as happy as legume lady without having to limit your intake to stuff that is green and tasteless. You do not have to be thin to be happy.
You do not have to be thin to be happy.
You do not have to be thin to feel good about yourself.
You do not have to be thin to be loved and wanted.
You do not have to be thin to think you are sexy and beautiful.
You do not have to be thin to do yoga or to go swimming,
to wear a bathing suit or a crop top, you do not have to be thin to follow your dreams.
You do not have to be thin.
Challenging 'the truth'
The gist of it: The very first step is learning, accepting and believing that being fat is not a bad thing. It seems like such a simple thing to state but it is absolutely crucial. Society has successfully placed a voice within all of us that constantly tells us that fat is worth fearing. I can go into a random cafe and say to a group of people, "I feel fat," and they will say, "Don't say that, you're not fat," regardless of the fact that I am actually fat and that the word fat is technically just a descriptive word and not something I can feel. I cannot feel brunette. It is widely accepted that 'fat' equals 'bad'.
And it is wrong. You need to believe that it is wrong. If we take it one step at a time.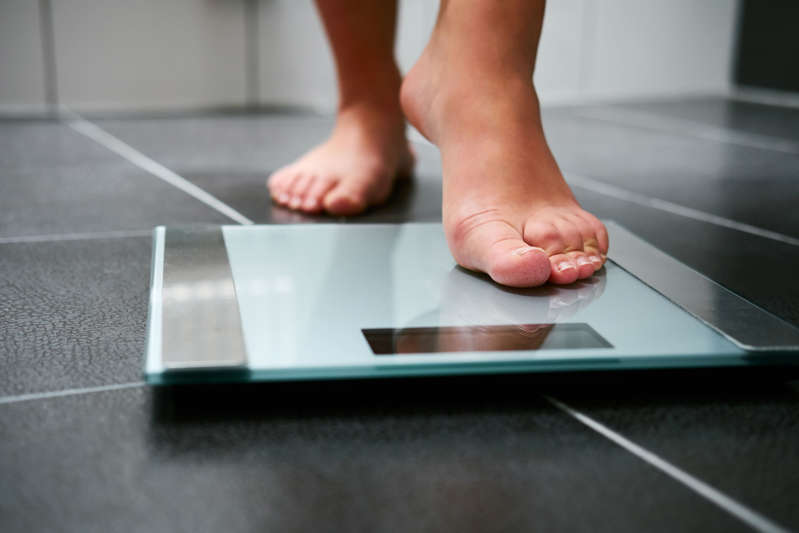 The notion that fat is not beautiful: There are two sides to beauty. There is beauty in the socially acceptable sense. The beauty ideal. What has been deemed beautiful. It is this idea of beauty that is terribly damaging because it leads to people who do not fit into this category being discriminated against and oppressed. This definition of 'beauty' is very carefully constructed and forced upon us from a very early age. In this understanding, fat is not beautiful because fat is not acceptable. This idea of beauty is objective.
The other side is the individual's perception of beauty. The subjective interpretation. Naturally, a lot of us are prone to preferring society's idea of beauty because we are so easily manipulated. But to a certain point. From then on, what happens inside of our brains is the very definition of subjective. There are loads of people who find fat people beautiful. I believed that beauty was one particular thing for most of my life. Until I rewired my brain. And what I saw in the mirror seemed to change, even though it remained the same. I suddenly found and saw the beauty in the body that I had hated. When you think of it, it is ridiculous to assume that we all find the same thing hot. It's important to attempt to dismantle the beauty ideals that we are all forced to survive under, but it's also important to dismantle those beliefs within yourself.
The notion that fat means lazy, greedy, unintelligent, evil, non-sexual, etc.: You can continue this list yourself – all the personality traits that you subconsciously combine with fatness. The fact that none of these are true should be so obvious that I feel bad even spending precious time saying it. You know it is not true. I know it is not true. Even the most fat-loathing person in the world would do a double-take if you asked him to bet all his life savings on this being true. Despite this, we often swing these words around alongside 'fat', like it is a fact.
"Oh, he is so fat and lazy," and it just sounds true. If I said, "You thin lazy mess," it would seem weird. We should have reached a point by now where we know that how a person looks does not mean they are a certain type of person with specific traits.
Perhaps it is easier to look at it like this: being fat describes that your body is rounder and softer than people who are less round and less soft. That is it. Fat describes a body shape or the amount of fat you have on your body. It is a neutral thing. If you must add any emotional connotations or moral connotations to it, add positive ones. Most importantly: get rid of all the negative ones.
Owning the word 'fat' was the most important step of my pilgrimage towards self-love. 'Fat' was a weapon that had been used against me my entire life. Taking the word, using it about myself, stripping it of its negative connotations was like grabbing the gun out of someone's hands and pointing it right back at them.
And essentially, it was fairly easy.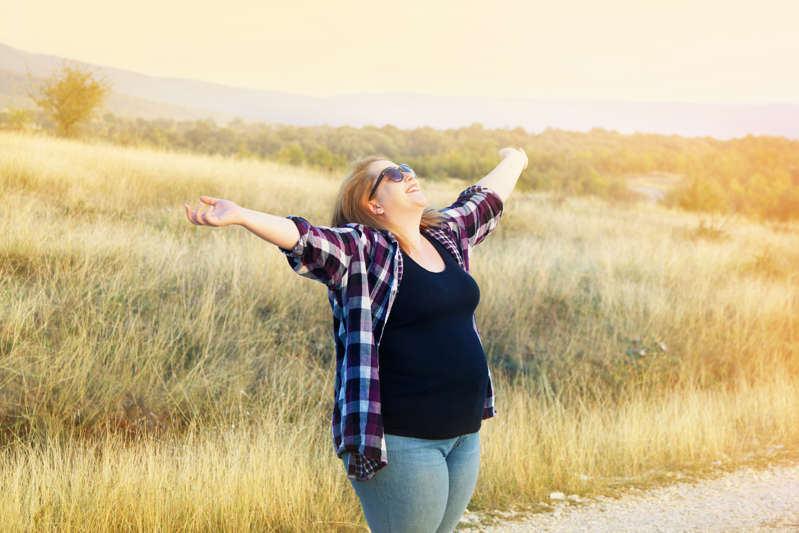 'Fat' is not a negative word. I repeat: 'fat' is not a negative word. 'Fat' has been made to mean something negative through society's fatphobia. 'Fat' has been made to mean greedy, lazy, selfish, unintelligent, annoying, evil, unattractive, in the way and excessive. But actually going back to basics, to the actual origin and meaning of the word: it is not a negative thing. It is a descriptive word describing the size of your body.
The upset or hurt that you have been taught to connect with the word 'fat' has nothing to do with the actual word or – and this is very important – with any facts. Being fat is not intrinsically a negative thing, in the same way as being a redhead or tall or wearing a purple T-shirt says nothing about what your core values are or how objectively good-looking you are.
I understand that the word 'fat' can hurt. For many of us, it has been thrown at us from moving vehicles, from family members who were meant to love us, from people on the internet whose sole intention is to hurt us. If, every time I left the house, someone tossed a cinnamon bun in my face with fury, I might actively start to dislike cinnamon buns after a while as well. But if I somehow managed to figure out a way of catching the cinnamon buns so I could eat them later, all the tossing of them would stop hurting. Quite the contrary: it would mean that I would get to eat a lot of cinnamon buns.
So, if you can start accepting and using the word 'fat' as a neutral – and eventually a positive – thing, it will stop hurting. As with most things, it will take quite a lot of time. The more you use it, the more you say it, the better the cinnamon will melt on your tongue.